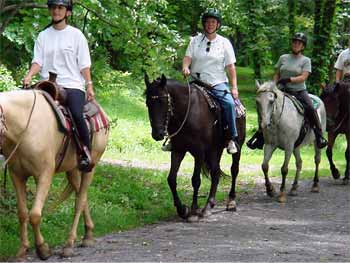 The Creeper Trail is a regional treasure shared by many. Visitors and locals alike also share the common goal to enjoy the unique experience the trail offers to its fullest. To that end, several "rules of the road" have been developed, and we ask all users to pay particular attention to these guidelines and help us continue to provide not only a really great experience, but a safe one as well.
As the trail traverses private and public property, we ask that all users exercise respect and courtesy.
The trail is for non-motorized traffic only.
Though helmets are not required, they are highly recommended and are standard issue with bike rentals.
Travel single file and keep to the right except when passing.
When passing other riders, walkers/runners or equestrian traffic, pass to the left, calling out "passing on the left" or sound a mechanical warning like a bell.
Keep your speed under control, especially when traveling downhill and keep your eyes on the trail and trail surface, watching out for oncoming traffic, rocks, washouts and other hazards.
Due to the very curvy nature of the VCT, please don't stop in the trail traffic lanes. Pull off to the side when taking a break or enjoying the scenery.
Trestles and bridges are very slippery when wet or frosty and bicyclists should use caution crossing and dismount and walk their bikes if conditions warrant.
Please do not block gates or park on the trail.
Obey all stop signs at road crossings. Vehicular traffic will not yield.
Dogs should be on a leash not exceeding 6 feet in length.
Know where you are on the trail by observing the concrete mileposts and trestle numbers located at each end of the trestles on the top rail.
Please pack out all litter, including animal waste and cigarette butts. Leave the Creeper Trail better for you having visited.
Defibrillator (AED) machines are located (when open) at Whitetop Station and Green Cove Station. Basic first aid supplies can be found in these locations as well.
Due to the rural location and mountainous terrain, cell service is not available along much of the trail. In the event of an accident or sudden illness, dial 9-1-1 with your location (nearest mile marker and/or trestle number). If cell service is not available, ask another trail user to go to the nearest house or station to call emergency services.
Please take a moment to listen to the brief audio below for more trail safety guidelines and tips:
Following these basic guidelines ensures an enjoyable – and safe – experience for all.