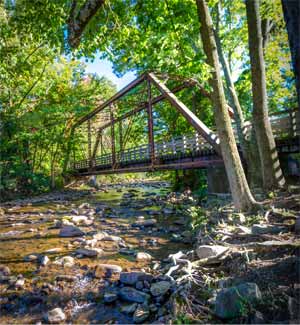 Located halfway between mile marker 0 in Abingdon and mile marker 34 near Whitetop Station, Damascus is not just centrally located, it was once the historical hub of activity that birthed a rail line that later became the Virginia Creeper Trail. Damascus is a picturesque town with locals so friendly that through-hikers on the Appalachian Trail gave Damascus the moniker "Friendliest Town on the Trail". Damascus is also known as "Trail Town, USA" and for good reason – it is traversed not only by the Creeper Trail and the AT, but also by the Trans-America National Bicycle Trail, the Iron Mountain Trail, the Daniel Boone Heritage Trail, the Crooked Road Musical Heritage Trail, and Virginia's Birding and Wildlife Trail to name a few.
Part of the charm of Damascus is the hidden treasures you'll find on a leisurely walk through town. An artsy town for its size, you're sure to find something to please any shopper.
Beyond the plentiful outdoor options, Damascus offers visitors and locals alike a chance to gather and relax at your choice of traditional dining venues to sandwich fare, ice cream and other treats to fabulous coffee and more eclectic offerings at Mojo's and the Damascus Brewery.
Lodging options are as abundant as your recreational choices. Beautiful lodges and B&Bs nestled in historic homes dot the streets in and around Damascus. Affordable hostels can be found throughout the town as well, offering respite from a long spell on the AT or a shorter visit along the Creeper Trail. Abundant choices of vacation rentals and cottages are available, too. Learn more about Damascus