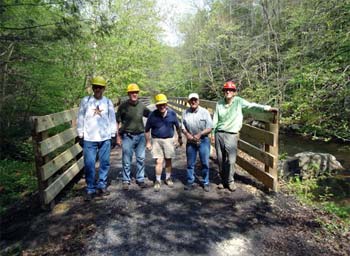 The Virginia Creeper Trail Conservancy is the official "Keeper of the Trail". In fact, our members and volunteers are referred to as "Creeper Keepers" – a designation proudly earned. After their first visit to the Creeper Trail and they've had the opportunity to fully enjoy this remarkable (and free) experience with friends and family, many folks ask how they can get involved and support the trail and the efforts of the Creeper Trail Conservancy. There are a multitude of ways that you can demonstrate your love and support for this treasured recreational trail – which will, in turn, help to ensure the preservation of the trail for future generations.
First, and foremost, regardless of your residency, become a member today!
Second, and especially for you local residents and frequent visitors – take a turn at volunteering…you may be surprised what you'll learn and love.
Third, support the trail directly by purchasing Trail Gear and other merchandise.
And fourth, make a donation…and a difference today. Any amount matters and is appreciated, we promise.
Quicklinks:
Become a Member or Renew Your Membership Today