Events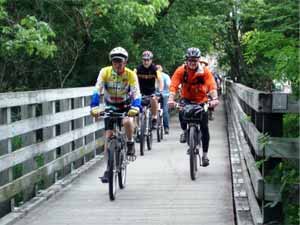 Events, festivals, fairs and more are a terrific way to complement your visit to southwest Virginia and your adventure on the Virginia Creeper Trail! You'll find no shortage of local and regional events awaiting you throughout the year, right here in southwest Virginia. In addition, we maintain a list of events such as 5k's, memorial races, and other activities on the trail, as well as events the Virginia Creeper Trail Club organizes for you.

Upcoming Events:
Saturday, July 28, 2018, 8am start · Creeper Trail Ride to Honor Lawrence the Legend!
Where: Welcome Center at trail head in Abingdon (300 Green Spring Road)
Details: As part of the Virginia Highlands Festival, the Creeper Trail Ride gives bikers a chance to experience the beauty of the Virginia Creeper Trail. Lawrence Dye, the 86-year-old Trail Ambassador, has logged more than 192,000 miles biking on the region's finest rails-to-trails landmark. Sponsored by the Virginia Creeper Trail Club, the ride will begin at the VCT Welcome Center and will be led by Myrl Dunham, VCTC member, with a sendoff by Lawrence Dye at 8 am and proceed through Damascus to Whitetop Station and back. The pace will be moderate with plenty of breaks, and mileage can be shortened by joining or leaving the group at different locations along the trail. Participants should bring their own bikes (or rent one in Abingdon or Damascus) as well as weather-appropriate clothing, water, and snack.