Events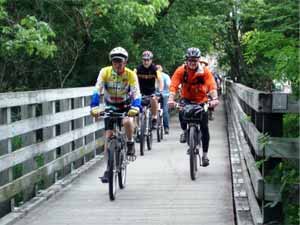 Membership meetings, events, festivals, fairs and more are a terrific way to complement your visit to southwest Virginia and your adventure on the Virginia Creeper Trail! You'll find no shortage of local and regional events awaiting you throughout the year, right here in southwest Virginia. In addition, we maintain a list of events such as 5k's, memorial races, and other activities on the trail, as well as events the Virginia Creeper Trail Club organizes for you.

Upcoming Events:
Wednesday, March 27, 2019 @ 7:00pm · VCTC Membership Meeting -- all are welcome!
Where: Washington County Library on Valley Street, Abingdon
Details: Join us for our first meeting of 2019. We will be discussing upcoming trail events, VDOT enhancements, VCTC projects and our special guest speaker will be Jason Green, Race Director of the Yeti Trail Runners.

Saturday, April 27th, from noon - 5:00 · 3rd Annual Creeper Fest!
Where: Virginia Creeper Trail Head, 300 Green Spring Road, Abingdon
Details: Meet us at the Trailhead in Abingdon to celebrate the award-winning Virginia Creeper Trail by checking out the multitude of outdoor recreation opportunities enjoyed along the trail and around SWVA by outdoors lovers of all ages. Get hands-on! Kids' activities including balloon animals, an inflatable obstacle course, a magician and lots of hands-on fun! Families can enjoy bike safety inspections, yoga in the park, tree identification along the trail, organized bike rides, geocaching, disc dog exhibitions and clinics, Creeper Trail talks, equipment demos and more. Food Trucks and Live Music throughout the day. For more info, go to vacreeperfest.com

May 17-19, 2019 · Damascus Trail Days
Where: Damascus Town Park
Details: Celebrating its 33rd(!!!) year, Trail Days is known near and far as THE place to be in mid-May to celebrate the Appalachian Trail. For more info, see www.traildays.us/

Saturday, May 25, 2019 · Plumb Alley Day
Where: Plumb Alley, Abingdon
Details: One of the largest one-day festivals in the southeast, Plumb Alley Day features vendors, food, music, children's activities along the picturesque Plumb Alley between Valley and Main Streets in Abingdon. See www.abingdonkiwanis.org for more details.

Saturday, July 27, 2018, 8am start · Creeper Trail Ride to Honor Lawrence the Legend!
Where: Welcome Center at trail head in Abingdon (300 Green Spring Road)
Details: As part of the Virginia Highlands Festival, the Creeper Trail Ride gives bikers a chance to experience the beauty of the Virginia Creeper Trail. Lawrence Dye, the 87-year-old Trail Ambassador, has logged more than 192,000 miles biking on the region's finest rails-to-trails landmark. Sponsored by the Virginia Creeper Trail Club, the ride will begin at the VCT Welcome Center and will be led by Myrl Dunham, VCTC member, with a sendoff by Lawrence Dye at 8 am and proceed through Damascus to Whitetop Station and back. The pace will be moderate with plenty of breaks, and mileage can be shortened by joining or leaving the group at different locations along the trail. Participants should bring their own bikes (or rent one in Abingdon or Damascus) as well as weather-appropriate clothing, water, and snack.

Saturday, October 5, 2019 · Taylor Read Memorial Ride -- Mark your calendars now!
Where: Alvarado Park
Details: Join us for fun, food and music along the river in Alvarado for the Annual Rails to River Ride for Taylor…Support the Creeper! The Read family hosts this popular annual event to celebrate the life of their son Taylor, and to continue to support a lasting legacy in his name. The day begins with a ride from the trail head in Abingdon to Alvarado where lunch and live music begin at noon at the beautiful, one-of-a-kind shelter built with donations in Taylor's name. More info will be available closer to the date.