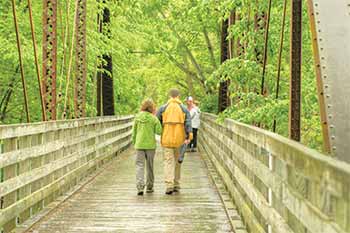 A destination for visitors from across the US and a cherished asset for local residents, the Virginia Creeper Trail is best known as a biking trail, but in reality, the VCT is a multi-use trail with opportunities to bike, walk, run, fish, horseback ride, people watch, cross country ski and geocache, along with chances to observe and learn about the native fauna and flora, as well as the fascinating historical and economic role the railroad played in southwest Virginia.
From Whitetop Station near the top of the second highest peak in Virginia, the Creeper Trail meanders (mostly!) downhill through and over some of the most spectacular scenery imaginable – open farmlands and fields, dense forests, Christmas tree farms, rushing streams and creeks. On your way, you'll sail across nearly 50 wooden trestles as you glide above this stunning scenery and travel through small, charming towns and past restored railroad depots. The VCT will intersect with the Appalachian Trail at a few points along your journey and, between Damascus and Whitetop, you'll find Whitetop Laurel Creek, one of Virginia's largest and most beautiful wild trout streams, just feet from the trail.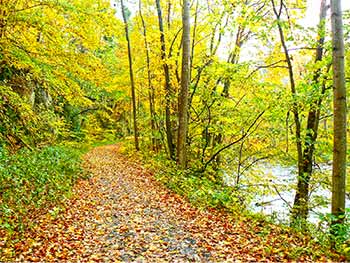 The elevation change along the 34-mile trail is moderate. Near the top of Whitetop Mountain, you'll find Whitetop Station at 3500' and Damascus clocking in at a little over 1900' – an elevation change of almost 1600' in 17 miles. From Damascus to the trail head in Abingdon, the trail inclines slightly, with an elevation increase of less than 300' that includes a moderate climb from the Holston River confluence to Abingdon. View Elevation Profile.
Heading down from Whitetop to Damascus takes approximately 2.5 to 3 hours, depending on your pace. Add another 2 hours or so to travel from Damascus to the trail head in Abingdon.
The diverse landscape, the elevation variability and multiple access points all combine to make for a design-your-own Creeper Trail adventure and a chance to individualize your experience according to your time constraints, what portions of the trail you'd like to see, or whether you're riding with very young children or energetic teens. Most folks opt for a shuttle from Damascus or Abingdon up to Whitetop Station and then journey the entire 34-mile trail to Abingdon or down to Damascus, located halfway between Whitetop and the trail head, though you can also head to Abingdon directly from Damascus or, for a more challenging route, bike up from Abingdon or Damascus to Whitetop Station.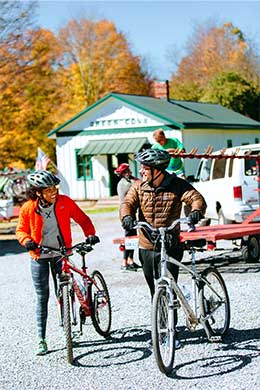 Most visitors rent bikes from any of the multiple bike shops, outfitters and shuttle operators in Damascus and Abingdon, who can also provide shuttle service to the access point of your choice whether it be at Whitetop Station, Abingdon or Damascus. You'll find the prices reasonable and the owners and staff friendly, knowledgeable and accommodating. Feel free to bring your own bike too – and then grab a shuttle from a bike shop to your desired drop-off!
Whether you're headed up or down, you'll find many places to eat in both Damascus and Abingdon and several great little cafés and ice cream stops, right along the trail – even a pet fountain just off the trail in Abingdon! In addition, there are several vault toilets trail side, as well as restroom facilities at several of the restored rail depots and at the trail head.
Come soon and visit often – for an adventure all yours!