When using a GPS for access points, directions and/or parking, the following addresses may be useful:
Virginia Creeper Trail Welcome Center – Abingdon Trailhead- 300 Green Spring Road, Abingdon, VA 24210
Watauga Trailhead – 24350 Watauga Road, Abingdon, VA 24211
Alvarado Station – 21198 Alvarado Road, Abingdon, VA 24211
Damascus Town Park – 301 S Beaver Dam Ave, Damascus, VA 24236
Straight Branch Trailhead – Near 25738 Jeb Stuart Highway, Jefferson National Forest Damascus, VA 24236
Taylors Valley Trailhead – 23530 Taylor Valley Road, Jefferson National Forest, Damascus, VA 24236
Creek Junction Trailhead – 21285 Creek Junction Road, Jefferson National Forest, Damascus, VA 24236
Green Cove Station – Green Cove Community Center, 41221 County Road 600, Jefferson National Forest, Damascus, VA 24236
Whitetop Station – Whitetop Gap Road, Whitetop, VA 24292 (note this is NOT Whitetop Mountain but the community of Whitetop, VA)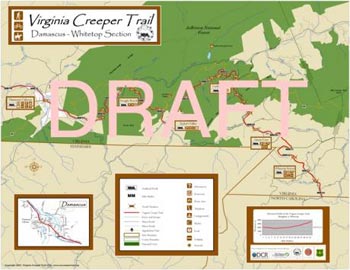 The official Virginia Creeper Trail map is printed by the Virginia Creeper Trail Club. One side details the Abingdon to Damascus section and the reverse side maps out the trail corridor from Damascus to Whitetop. All 34 mile markers are indicated along with each of the 47 trestle bridges. You'll also find designations for access points, picnic shelters, restrooms, info kiosks, seasonal services and other vital information plus the elevation profile of the entire trail.
The official Creeper Trail map is available for purchase online or at the Welcome Center in Abingdon, as well as at many of the retail bike shops and shuttle services in Abingdon and Damascus.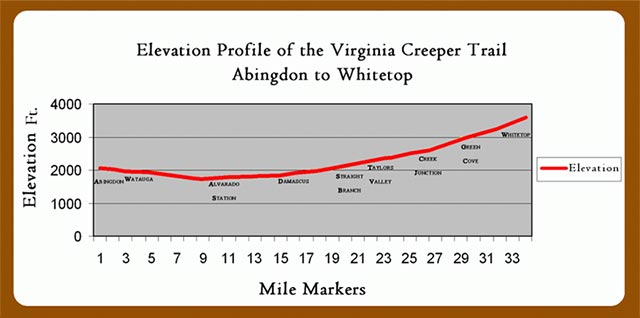 Spatial Data- Hosted feature layer or download shapefile