Events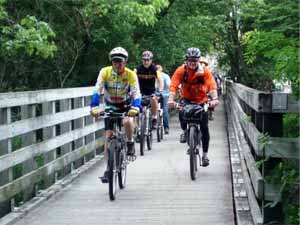 Events, festivals, fairs and more are a terrific way to complement your visit to southwest Virginia and your adventure on the Virginia Creeper Trail! You'll find no shortage of local and regional events awaiting you throughout the year, right here in southwest Virginia. In addition, we maintain a list of events such as 5k's, memorial races, and other activities on the trail, as well as events the Virginia Creeper Trail Club organizes for you.

Upcoming Events:
Sunday, July 15th, 5pm · BBQ & Music!
Where: White's Mill, 12291 White's Mill Road, Abingdon
Details: Enjoy BBQ and Barbershop Singing! Tickets: $10 adults, $5 kids...all proceeds go to support the White's Mill Restoration!