Events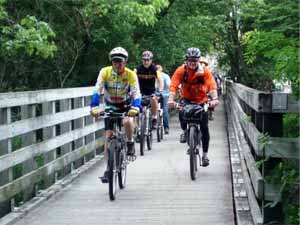 Events, festivals, fairs and more are a terrific way to complement your visit to southwest Virginia and your adventure on the Virginia Creeper Trail! You'll find no shortage of local and regional events awaiting you throughout the year, right here in southwest Virginia. In addition, we maintain a list of events such as 5k's, memorial races, and other activities on the trail, as well as events the Virginia Creeper Trail Club organizes for you.

Upcoming Events:
Wednesday, March 28, 7:00 · Virginia Creeper Trail Club Meeting
Where: Washington County Library in Abingdon
Details: Join us for our first meeting of 2018! The meeting will begin at 7:00 with a brief discussion of trail news and changes, VDOT work, and upcoming trail projects. Also, Jason Green, director of the Yeti 100 Endurance Run will be here to talk about the race on the VCT. Sara Saavedra, Special Events Coordinator for Abingdon will also be on hand.

March 29 · Adventure Tourism Workshop!
Where: Virginia Highlands Small Business Incubator, 851 French Moore Jr. Blvd, Abingdon, VA
Details: Register at http://www.vastartup.org/event-directory/

Saturday, April 7 · Trail Clean Up Day!!
Where: Abingdon trail head or Food City in Damascus
Details: This year's Spring Clean up, sponsored by the VCTC, is April 7th. Come individually or gather a group of friends or co-workers and meet us at 9am at either the trail head in Abingdon or Food City in Damascus. Dress for the weather and bring gloves...everything else will be provided including doughnuts and coffee. We thank you for helping maintain the beautiful Creeper!

Now through April 6th · CRUSH Friday Photo and Video Contest!
Details: CRUSH your Friday and experience all the region has to offer http://visitabingdonvirginia.com/thi…/crush-friday-abingdon/! And show us how by entering the photo/video contest at http://woobox.com/roepgn!

February 15 - May 10 · Virginia Master Naturalists - Spring 2018 Basic Training Class
Where: SWVA Higher Ed Center
Details: For more info, contact Monica Hoel 276-944-3516 or mhoel1985@gmail.com