Events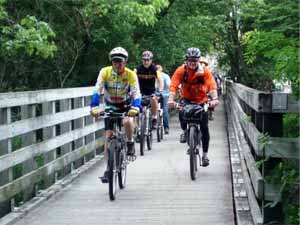 Events, festivals, fairs and more are a terrific way to complement your visit to southwest Virginia and your adventure on the Virginia Creeper Trail! You'll find no shortage of local and regional events awaiting you throughout the year, right here in southwest Virginia. In addition, we maintain a list of events such as 5k's, memorial races, and other activities on the trail, as well as events the Virginia Creeper Trail Club organizes for you.

Upcoming Events:
October 14 · SWVA 4-H and Whitetop Yoga Community Day
Where: SWVA 4-H Center, Hillman Highway
Details: Optional yoga at 8:15, volunteer work session on educational trails from 9:00 to 12:30, then lunch provided!